5 Must Visit Places in New Zealand's North Island!
Nau mai, haere mai (Welcome) to New Zealand's North Island!
Home to an impressive array of geothermal landscapes, deep forests, picturesque lakes and rich Māori culture, New Zealand's North Island offers a diverse holiday experience. Here are 5 not to be missed places!
1) Mount Maunganui (Mauao)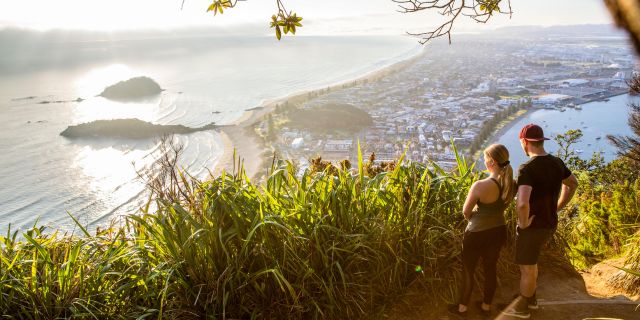 Photo Credit: Camilla Rutherford
Mount Maunganui, also known by its Māori name Mauao, or The Mount as dubbed by locals, is an extinct volcano set on a peninsula. Mauao which means "caught in the light of the day", is an extremely spiritual place among the Māori landowners and is featured extensively in the local mythology. Be humbled by this spiritual icon as you hike up Mauao and be rewarded by unbeatable views of Taraunga Harbour and White Island. If hiking is not your cup of tea, sink your feet into the sand and stroll barefoot along the main beach which has been crowed as the "Best Beach in New Zealand" and ranks among the top 25 best beaches in the world by TripAdvisors.
2) Te Puia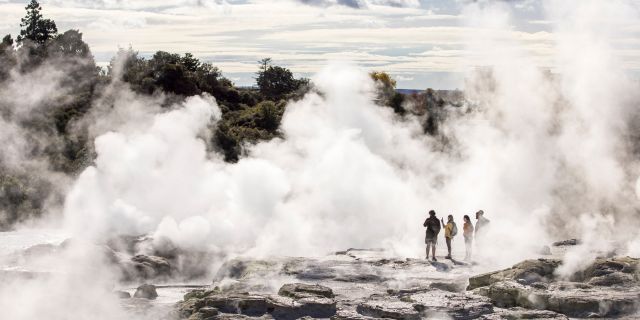 Photo Credit: Miles Holden
Welcome to New Zealand's geothermal wonderland. Be mesmerised by the exploding mud pools located all throughout the valley, feel the natural power of Pōhutu Geyser– the largest naturally active geyser in the Southern Hemisphere, and explore the beautiful nature bush. Don't miss out on a chance to get up close and personal with New Zealand's national treasure – the native Kiwi – at the state-of-the-art Kiwi Conservation Centre and witness Māori artisans demonstrate their skills at the New Zealand Māori Arts and Crafts Institute, home to the national schools of carving (wood, stone, and bone) and weaving. When you're feeling peckish, sit down to a lavish unforgettable Hāngī feast, a traditional Māori meal that is crafted with locally sourced and freshly prepared ingredients cooked using the traditional cooking method of using heated rocks buried in a pit oven called an umu.
3) Lake Taupō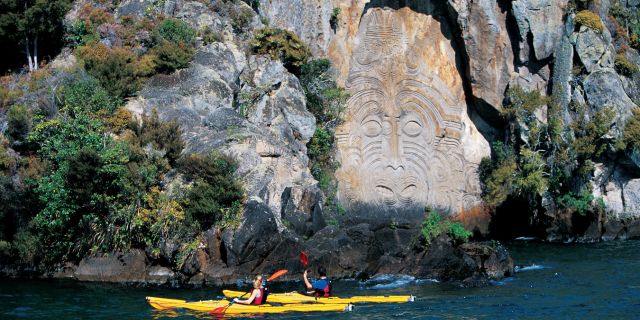 Photo Credit: Tourism NZ
Can you believe it? The beautiful Lake Taupō is about the size of Singapore! This massive vivid blue lake is perfect for a relaxing afternoon of water-skiing, sailing, and kayaking. The western bay of this lake is home to the Mine Bay Māori Rock Carvings, a huge Māori rock carving sculpted by master carver Matahi Whakataka-Brightwell in the late 1970s. The best way to view this rock carving is via boat or kayak. Head north of Taupō and you will find yourself in the presence of the magnificent Huka Falls where a staggering 220,000 litres of water thunder over an 11-metre-high waterfall every second. If water activities are not your thing, you can choose to hike or mountain bike in the forest surrounding the lake.
4) Waitomo Caves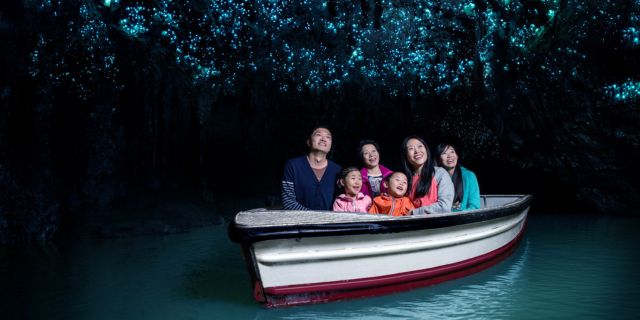 Photo Credit: Shaun Jeffers
Waitomo comes from the Maori words wai (water) and tomo (hole). Take a boat ride and enter the starry wonderland of the Glowworm Grotto where thousands of tiny glowwarm radiate their unmistakable
luminescent light in a subterranean world. This glowworm (Arachnocampa Luminosa) is unique to New Zealand so don't miss out on this magical spectacle. For the adventurers, consider the unique experience of Black Water Rafting through Waitomo Caves where you'll have the chance to crawl, swim, and float through the caves on a rubber tube.
5) Hobbiton™ Movie Set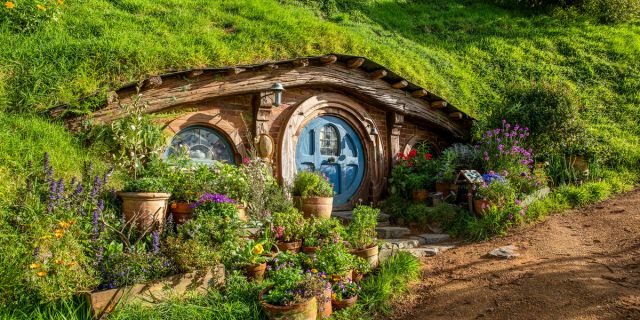 Photo Credit: Matt Crawford
"In a hole in the ground there lived a hobbit." ~ J.R.R. Tolkien, The Hobbit
Step into the lush pastures of the Shire and experience the real Middle-earth through Hobbiton™ Movie Set Tours as featured in the Lord of the Rings trilogy and The Hobbit films. Be a welcome guest in the world-famous Green Dragon Inn, see Bilbo and Frodo Baggin's home Bag End, indulge in a feast fit for a Hobbit and learn how movie magic was created.
For more information and/or to book your New Zealand holiday, contact our travel consultants at [email protected] or call us at +65 6317 2888.