5 Incredible Road Trips from Sydney
Vibrant Sydney is home to iconic sites like the Sydney Opera House and Sydney Harbour Bridge, world-class restaurants and bars, award-winning distilleries and beautiful beaches. It's also the gateway to regional NSW with gorgeous towns, cellar doors, nature and adventure waiting to be discovered. Whether you're interested in a day trip up to the Blue Mountains, just an hour from the city or craving a daring adventure in Port Stephens, we have you covered.
1) For Families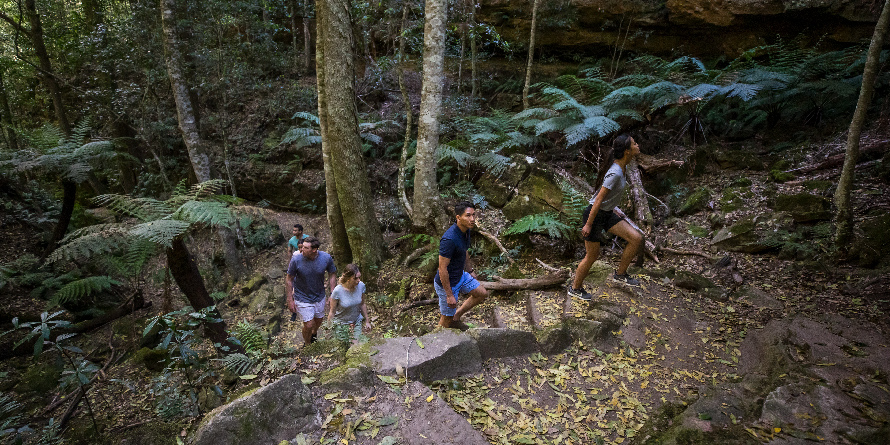 Photo Credit: Destination NSW
Travelling with young children in tow? We know what that's like. To save you the grumbling, complaints and are-we-there-yets that arise from long car rides with active critters, we recommend driving up to the Blue Mountains – just 1.5 hour's drive from Sydney. Replete with dramatic scenery, lookouts and nature trails, the Blue Mountains will take your breath away. Head to Scenic World in Katoomba to admire the iconic Three Sisters rock formation, and kids will absolutely love riding the Scenic Cableway. For a good dose of ecotherapy for the whole family, head to the Grand Canyon Walk – easily the most impressive walking trail in all of the Blue Mountains where you'll be fully immersed within lush rainforests and tumbling waterfalls. You can also visit the Mount Tomah Botanic Gardens, nestled within a UNESCO World Heritage site with walking trails suitable for all ages, and home to more than 400 different plant species.
2) For Adventure Seekers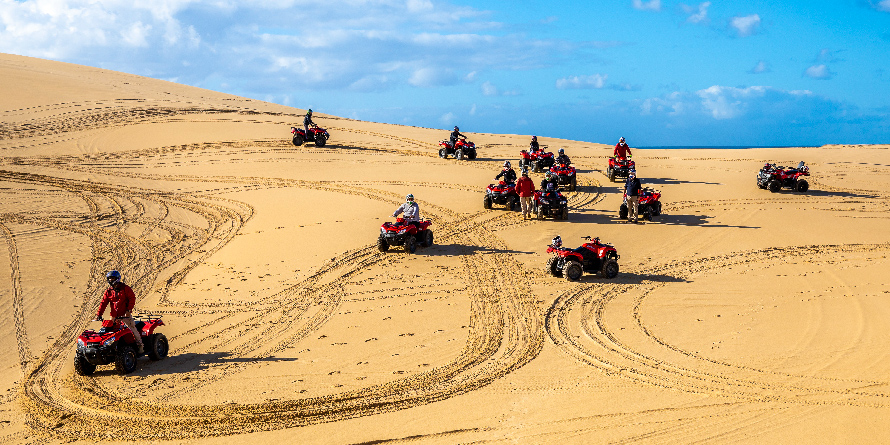 Photo Credit: Destination NSW
Fans of the great outdoors must have Port Stephens on their list. A 2.5 hour drive from Sydney city centre, this destination is known for having the largest moving coastal sand dunes in the Southern Hemisphere. It's also the dolphin capital of Australia – home to over 140 bottlenose dolphins! A requisite experience is with Sand Dune Adventures, where thrill-seekers go quad biking on the Stockton Sand Dunes, you'll also have the opportunity to learn about Australia's indigenous history and traditional foods. If that's not enough, you can also take a kayak out to explore the pristine waters of Shoal Bay and enjoy diverse marine life as well as get up close and personal with wild dolphins. Make the trek to Tomaree Head Summit, where between April to November, it's the perfect lookout as majestic whales migrate along Port Stephens' beautiful coastline.
3) For Gourmands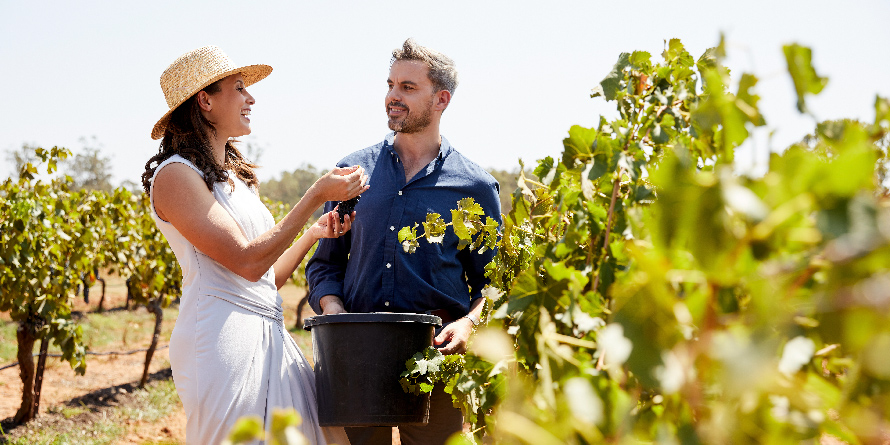 Photo Credit: Destination NSW
Did you know that the ultimate foodie paradise is just 2.5 hours away from Sydney? Hunter Valley is Australia's oldest wine producing region, and is also renowned for being a gastronome's haven. Leogate Estate is a must-see, boasting 50 hectares of vineyard that produces some of the finest Chardonnay, Semillon and Shiraz in New South Wales. Oenophiles would also appreciate a trip down to Audrey Wilkinson Winery for a wine tasting session or even spend the night at The Mulberry Cottage for a lovely B&B experience. New age drinkers should stop by Tamburlaine Organic Wines, Australia's largest independent organic wine producer. We also recommend making a reservation at two-Hatted Muse Restaurant located at the mouth of Pokolbin for a curiously delicious combination of Indigenous-Asian cuisine – you want gourmet? You got it.
4) For Nature Lovers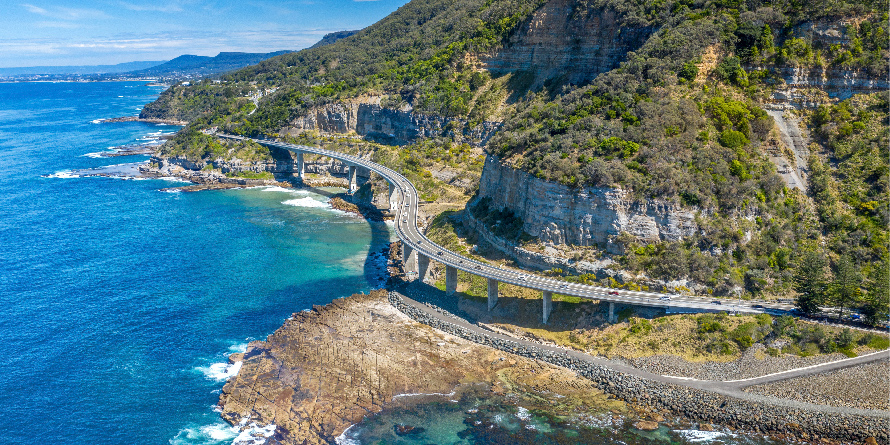 Photo Credit: Destination NSW
If you're keen to see and experience Australian wildlife and scenic coastal views like no other, the Grand Pacific Drive is perfect for you. This is a great route to follow for a day trip out of Sydney if you're looking to maximise on time spent in the great down under. Start your adventure at the Royal National Park – home to coastal cliffs, secluded beaches and bushland. A natural wonder in itself, its Figure Eight Pools would make a gram-worthy addition to your feed! You can also get a slice of NSW's sweeping coastline at the Wedding Cake Rock, which – as its name describes – looks just like a slice of wedding cake. If you're there a little later in the evening, we recommend making the trek to Eagle Rock to catch the sunset and soak in its magical views. Snaking along the majestic waters of the Pacific is the world famous Sea Cliff Bridge, another worthy stop to take for a photogenic road trip to remember. This bridge is an amazing vantage point to observe startling sea life below including massive manta rays and an array of water birds. Other fantastic stops to make along the Grand Pacific Drive include the Kiama Blowhole, one of the world's largest blowholes that was also written about by British explorer George Bass in the year 1797; and Jervis Bay, great for observing whale and dolphin migrations, snorkelling, scuba-diving and paddleboarding on crystal blue waters. It's also home to Hyams Beach, recognised in the Guinness Book of Records for being the whitest sand beach in the world.
5) For Happy Campers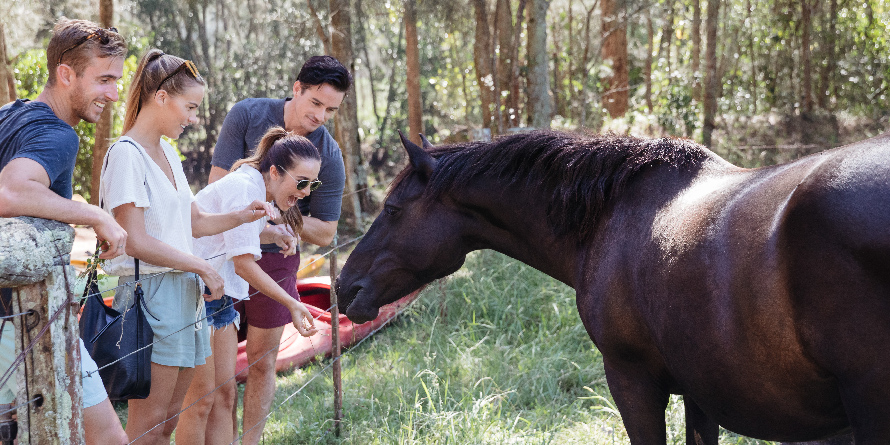 Photo Credit: Destination NSW
There's no better way to connect with the great outdoors than camping in unspoilt nature! For camping enthusiasts, we suggest taking an easy hour's drive North of Sydney down to the lush Glenworth Valley. From glamping in style in luxurious, spacious tents; to reconnecting in secluded cabins with spectacular views of the valley; to pitching a tent by gorgeous rivers the true blue camper's way, Glenworth Valley is the quintessential camping ground for families and groups of friends. This destination is also one of Australia's largest horse riding and outdoor adventure centres, replete with many activities such as quad biking and kayaking for a truly memorable camping experience. Make sure not to miss the running of the horses – an iconic moment where you can observe a whopping 200 horses rush across the valley's horse riding yards every afternoon.
Singapore has established a vaccinated travel lane (VTL) agreement with Australia and vaccinated Singaporeans will be able to travel to and from the states of New South Wales and Victoria in Australia via the VTL. Amid concerns over the new Omicron COVID-19 variant, all travellers entering Australia must serve a 72-hour isolation upon arrival.
For flight and hotel deals to Australia, speak to our friendly travel executives at [email protected] or call us at +65 6317 2888.
For more information on the VTL and its requirements, read this: